Get funding
and save the world
We are con­vinced that some peo­ple out there have extra­or­di­nary ideas. Ideas that can change the world. Are you one of them? Would you like to spark hope and make the world a bet­ter place?
bridgebuilder is a fund­ing pro­gramme that helps you to real­ize your social, eco­log­i­cal or cul­tur­al projects.
This is how it works:
A small basic income makes sure your essen­tial needs are met, so that you can focus on your char­i­ta­ble project!

Mar­ket­ing, com­mu­ni­ca­tion & orga­ni­za­tion devel­op­ment are the key to suc­cess. We will active­ly sup­port you in these areas.


Together we are build­ing a net­work for change­mak­ers who sup­port each other.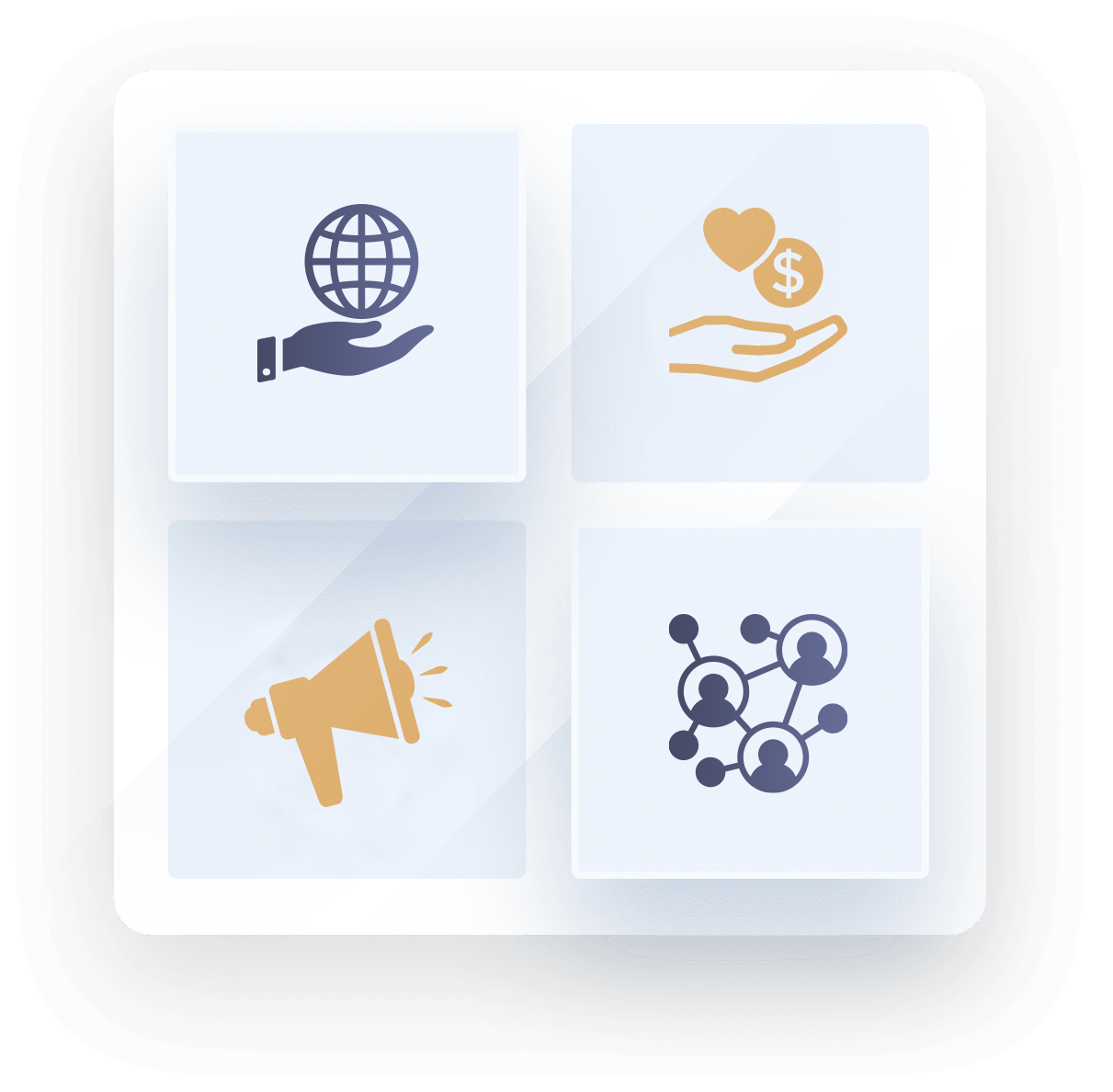 A chance
to shape the world together
The mon­ey for bridgebuilder has not just appeared out of nowhere. We have nei­ther inher­it­ed it nor won the lot­tery. We gen­er­at­ed it with­in the tra­di­tion­al eco­nom­ic sys­tem, so sav­ing up enough to start bridgebuilder Foun­da­tion e.V. required a lot of hard work and effort.
The mon­ey can now become effec­tive in the way it was always intend­ed to: with your help it ought to shape the world.
Mon­ey is the means — not the end.


Apply now — alone or together with your team!

Our mission:
find a way into a liveable future
What kind of world do we want to live in?
While we are busy con­nect­ing the world with cables, destroy­ing ecosys­tems and mak­ing our­selves redun­dant in the face of arti­fi­cial intel­li­gence, we often for­get this ques­tion. All of this can be quite frus­trat­ing — and you may be won­der­ing where this will lead?
In our vision, the col­lec­tive over­load of cli­mate change, unjust dis­tri­b­u­tion of resources and dis­rup­tive tech­no­log­i­cal devel­op­ments is part of a gigan­tic devel­op­ment process. It is forc­ing us humans to reor­ga­nize our coex­is­tence and devel­op at a breath­tak­ing speed. Imag­ine the pos­si­bil­i­ty to trav­el freely through many coun­tries, equal access to edu­ca­tion for all sex­es, free­dom of expres­sion, a social sys­tem, work­ers' rights, free choice of part­ner, same-sex mar­riage… All these social achieve­ments have devel­oped only recent­ly in human his­to­ry and we often take them for grant­ed (at least us Europeans).
But the sta­tus quo is far from per­fect — and for fur­ther devel­op­ment we need to under­stand the following:
Humans are not only com­posed of their phys­i­cal bod­ies and their intel­lects - their emo­tions and their spir­i­tu­al­i­ty are equal parts with­in them.
About spir­i­tu­al­i­ty and meaning
Maybe the word "spir­i­tu­al­i­ty" makes you imag­ine hip­pies in sack­cloth sit­ting together in a cir­cle and talk­ing about their feel­ings. How­ev­er, we are con­cerned here with the entire world of life and work, which nowa­days often seems com­plete­ly soul­less: peo­ple are locked into auto­mat­ed process­es like cog­wheels and any­one who does not run smooth­ly is removed.
Recent­ly, how­ev­er, more and more "seri­ous" busi­ness peo­ple in suits are real­is­ing that remain­ing suc­cess­ful in this increas­ing­ly com­plex sys­tem requires new per­spec­tives. Being aware of the mean­ing of one's own activ­i­ties and hav­ing access to one's emo­tions are becom­ing increas­ing­ly impor­tant in this con­text. After all, those who learn to recon­nect with their own and oth­ers' emo­tions can deal more empa­thet­i­cal­ly with chal­lenges and together find solu­tions that could not be achieved cog­ni­tive­ly on their own.
Those who devel­op their own spir­i­tu­al­i­ty can estab­lish an active con­nec­tion to them­selves and all life and draw from this an enor­mous strength and moti­va­tion for their work.
Our task as bridge builders is to shape our lives and our work in a holis­tic and sus­tain­able way and thus open up new paths for oth­er peo­ple. We do not have ready-made solu­tions for this — but we do have tools that have been tried and test­ed in prac­tice! We use them to build exam­ples that com­bine tech­nol­o­gy and intel­li­gence with empa­thy and mean­ing. In this way, we trans­form rigid cog­wheel sys­tems into organ­i­cal­ly grow­ing liv­ing environments.
For a bet­ter under­stand­ing of how we envi­sion an orga­ni­za­tion of the future, we rec­om­mend Fred­er­ick Laloux's book "Rein­vent­ing Organizations". Have a look at this short video to get an idea of what it is about.
Frequently Asked Questions
Are you won­der­ing who bridgebuilder.eu is and under which con­di­tions we will finan­cial­ly sup­port you? Have a look at our FAQ section.
Ques­tions about the organization

Who are the peo­ple behind bridgebuilder Foun­da­tion e.V.?
Nike Schödl
2020–04-20T16:31:09+00:00
The ini­tia­tor of bridgebuilder is Matthias Lind­ner. Matthias is a polit­i­cal cam­paign­er and exhi­bi­tion design­er as well as the own­er of ARac­tion GmbH, a soft­ware com­pa­ny for aug­ment­ed real­i­ty projects.
Together with an inter­dis­ci­pli­nary team, Matthias found­ed the bridgebuilder Foun­da­tion e.V. (a reg­is­tered association):
Sebas­t­ian Adler (Nau­ti­cal offi­cer, B.Sc.)
Veroni­ka Czies­lik (Ener­gy and Process Engi­neer­ing, M.Sc.)
Katha­ri­na Wies­ner (Busi­ness Admin­is­tra­tion and Eco­nom­ics, B.A.)
Nike Schödl (Eng­lish and Amer­i­can Stud­ies, BA)
Christoph Lind­ner (Dr. jur., lawyer and lecturer)
As part of the bridgebuilder Foun­da­tion advi­so­ry board, we will decide together on your fund­ing appli­ca­tions. In addi­tion, hav­ing many years of pro­fes­sion­al expe­ri­ence, we will pro­vide you with the best pos­si­ble sup­port in imple­ment­ing your projects.
Ques­tions about the funding

What are the fund­ing con­di­tions?
Nike Schödl
2020–04-20T16:47:50+00:00
There is no legal claim to funding.
The advi­so­ry board is free to decide who, when, how long and to what extent bridgebuilder Foun­da­tion e.V. sup­ports some­one in the con­text of their char­i­ta­ble commitment.
The statutes of the found­ed bridgebuilder Foun­da­tion e.V. define the deci­­sion-mak­ing frame­work for the fund­ing committee.
Sub­mit­ted fund­ing con­cepts will not be remunerated.
All sub­mit­ted ideas and con­cepts are "Open Source". They are hand­ed over by the author under the license CC0 1.0 Uni­ver­sal (CC0 1.0) Pub­lic Domain Ded­i­ca­tion. Fur­ther infor­ma­tion: https://creativecommons.org/publicdomain/zero/1.0/deed.en
All doc­u­ments, ideas and sub­mit­ted media may be freely used and pub­lished by bridgebuilder Foun­da­tion e.V.
The fund­ing amounts stat­ed are the amounts we are aim­ing for. We can devi­ate from them at our own discretion.
Fund­ing amounts received can be reclaimed if the recip­i­ent does not ful­fil his oblig­a­tions as project man­ag­er or uses the mon­ey for oth­er pur­pos­es than described in the fund­ing application.
The grant can be ter­mi­nat­ed by either par­ty at any time with­out giv­ing rea­sons and with imme­di­ate effect. (How­ev­er, we will always talk to you first if prob­lems arise!)
bridgebuilder Foun­da­tion e.V. may change the terms and con­di­tions of the spon­sor­ship at any time with effect for the future.
Please also read the FAQ arti­cles about the fund­ing peri­od, fund­ing amount and your oblig­a­tions.
Detailed terms and con­di­tions, in a legal­ly water­tight ver­sion, are cur­rent­ly being pre­pared and will be pub­lished here as soon as they are ready.
Your Application
Con­vince us of your spe­cial project — and your personality.
* We only sup­port peo­ple who are will­ing to real­ly get start­ed with their project and who want to help oth­er peo­ple, the envi­ron­ment or soci­ety direct­ly and prac­ti­cal­ly. We do not sup­port any vague ideas or the­o­ret­i­cal con­cepts, nor do we spon­sor projects for a tar­get group that is not in need of help. To give an exam­ple: We think com­mu­ni­ty projects such as ecov­il­lages or liv­ing com­mu­ni­ties are great, but we could only sup­port them if they inter­act­ed extra­or­di­nar­i­ly strong­ly with the soci­ety sur­round­ing them, are rec­og­nized as non-prof­it and inte­grate dis­ad­van­taged peo­ple. Your appli­ca­tion should explain why you need fund­ing for your project, or how the mon­ey will help you achieve your char­i­ta­ble goals.
** Here are a few sug­ges­tions for points that your poster could contain:
Your idea in one sen­tence, type of char­i­ty & field of work, mis­sion state­ment, men­tion­ing the
SDGs
your project is work­ing on, a short team intro­duc­tion, the most impor­tant steps for the next 5 years, chances & risks, hur­dles & solu­tions, avail­able resources, loca­tion, … keep it short & simple.
Hint:
We know from our own expe­ri­ence that such appli­ca­tions are a lot of work — and we will prob­a­bly not be able to pro­vide fund­ing for all appli­cants. We have there­fore struc­tured the appli­ca­tion process in three stages in order to lim­it the ini­tial effort for you. In any case, you should design your doc­u­ments in such a way that they add val­ue to your project and pro­vide clar­i­ty and focus — regard­less of whether your appli­ca­tion is suc­cess­ful or not.
Sign up for our newsletter!
We will con­tact you only once a month -
and only if there are rel­e­vant news. Promised.
News
24 artists pro­vide per­son­al objects that can you can win through a dona­tion. The entire pro­ceeds go to the foun­da­tion fund Civ­il Sea Res­cue (80%) and to Civil­fleet (20%). So […]
Write us!
If you have any ques­tions, do not hes­i­tate to con­tact us.